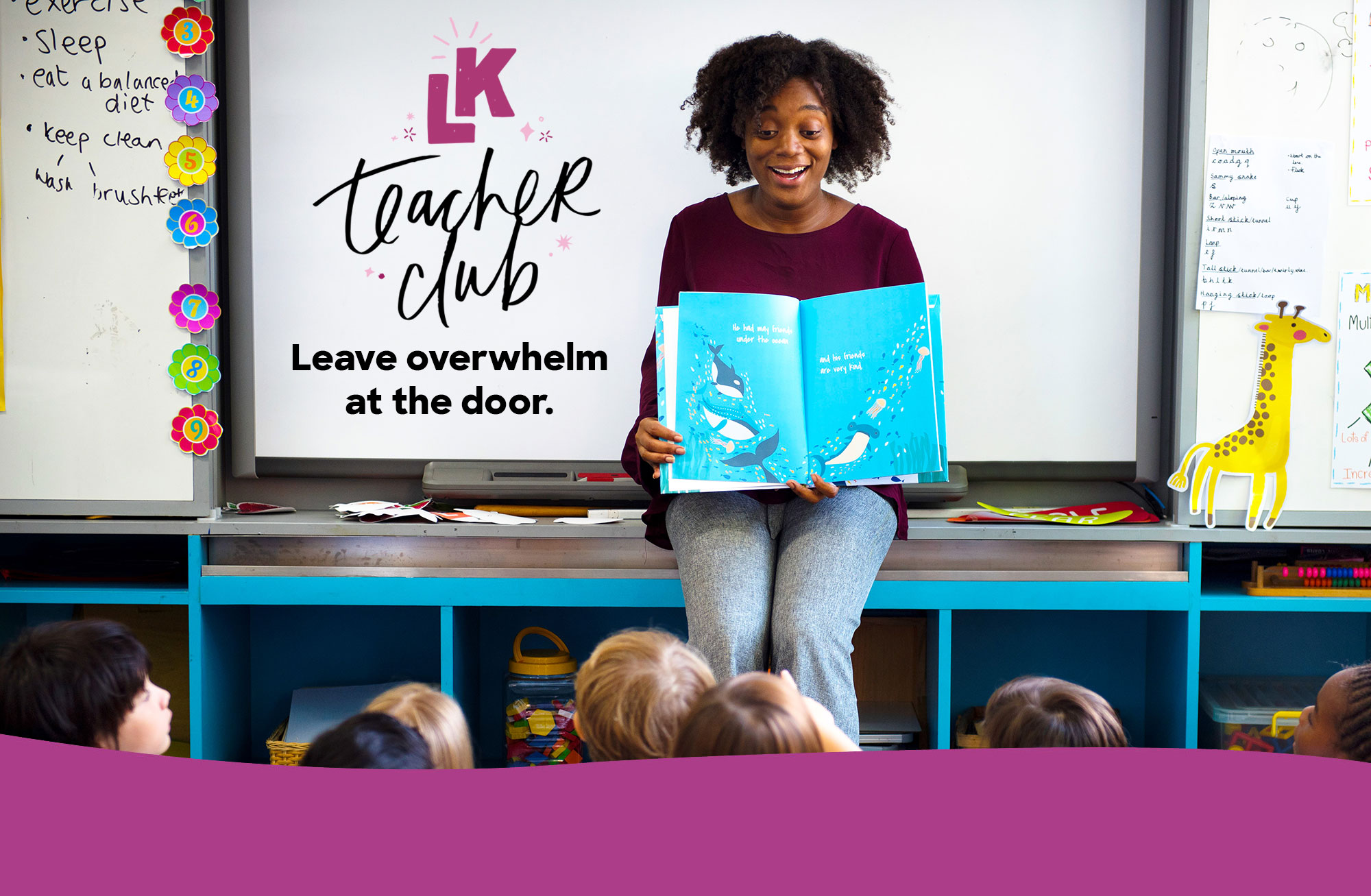 An online membership and built-in support system for primary teachers.


STRESS-FREE
Ditch that overwhelm once and for all!

SUPER ORGANIZED
Imagine being on top of the school week before Sunday night!

ENERGIZED
Monday mornings are about to be your favorite time of the week!

AND FULLY SUPPORTED
Good news: you don't have to go the path alone anymore!
DOES THIS SOUND LIKE YOU?

Do you find yourself living in a constant state of overwhelm?

Do you feel like you suffer from teacher brain overload? Or like you have 100 tabs open in your brain at all times?

Do you wish you had more time for yourself to, you know, enjoy your life and have hobbies again?

Do you find yourself working tirelessly on the weekends and feeling like there's never enough time for you to get everything done?
If you've been furiously nodding your head saying "Yes! Yes! That's me!", you are not alone.
Overwhelmed teachers – just like you – share their frustrations with me every single day. And it's for this reason I knew I had to create something that wasn't just a single resource, but could be an ongoing support system for teachers who want more time, more ease, and a whole lot less stress.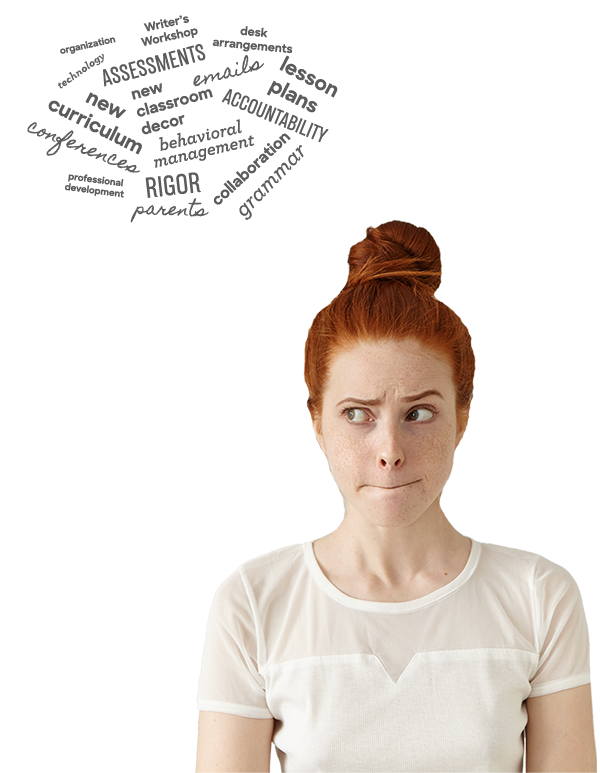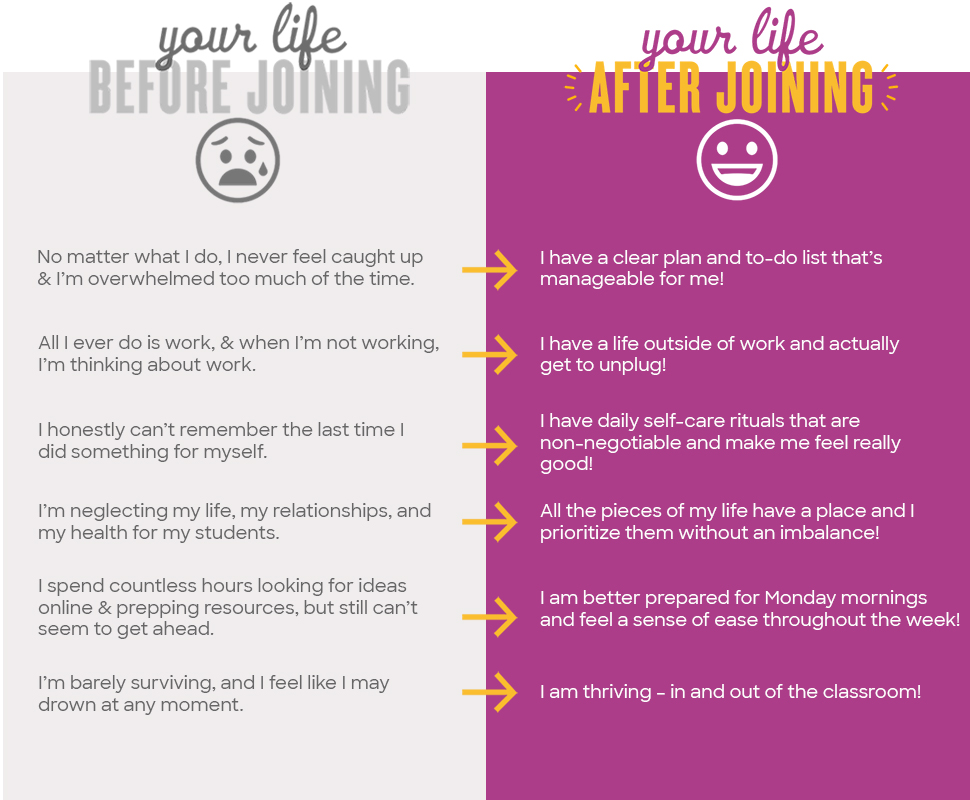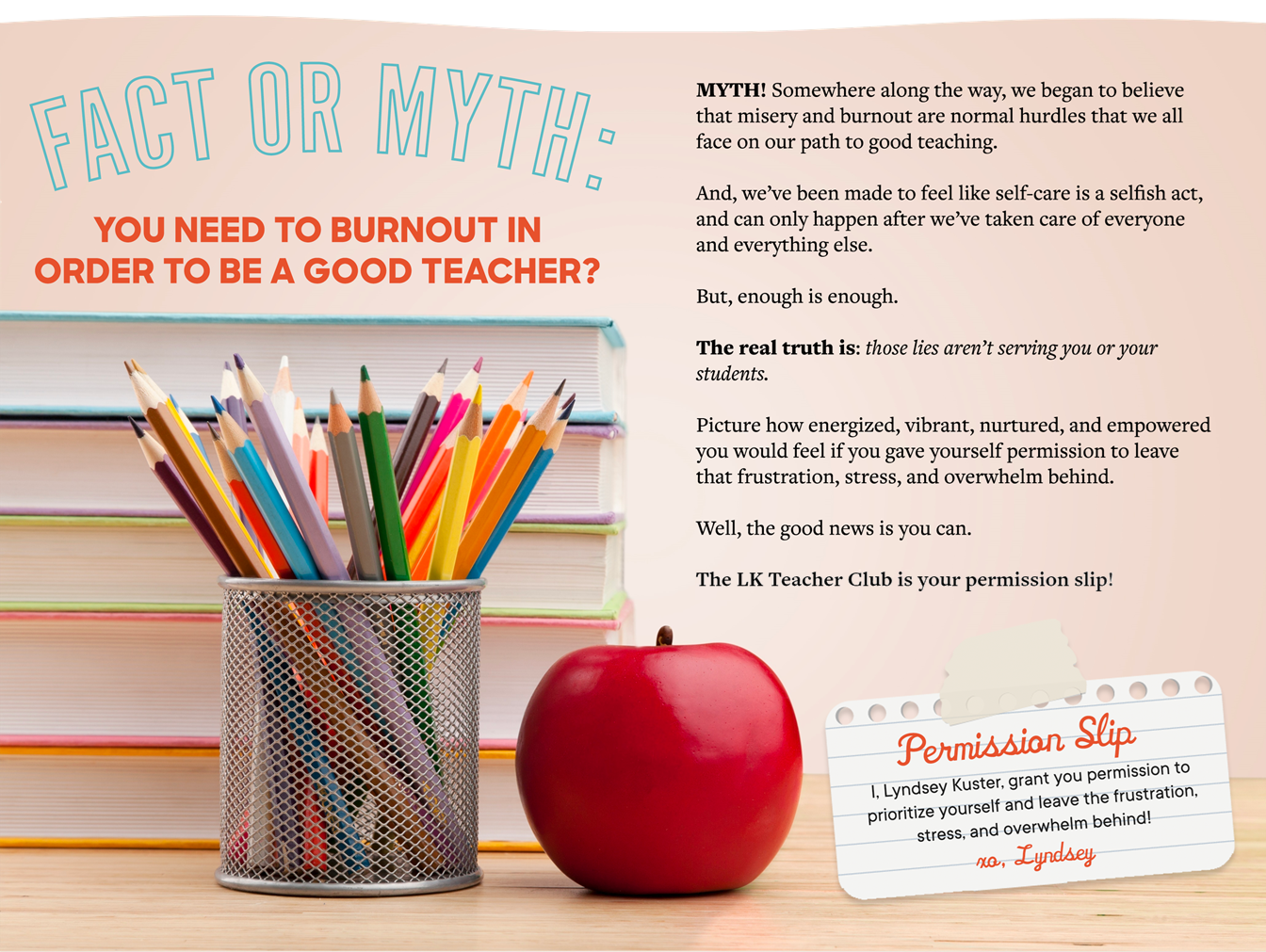 SO, WHAT
 

IS

 


THE LK TEACHER CLUB?
The LK Teacher Club is an affordable online monthly membership to help you navigate out of survival mode and into thrive mode!
There are 4 main components to your monthly membership

TEACHER-TESTED, KID-APPROVED RESOURCES
You can finally stop reinventing the wheel! Get instant access to research-based resources – right at your fingertips, and say so long to spending hours searching online for ideas!

SUPPORTIVE COMMUNITY OF TEACHERS WHO UNDERSTAND YOU
No more feeling alone and lost! Who understands you better than other teachers? When you become a member, you'll instantly be added to the LK Teacher Club members-only Facebook group. Post your daily struggles, ask for guidance, and get on-the-spot-support from an army of teachers who really get you.

CLASSROOM MANAGEMENT TOOLS TO SAVE YOU TIME
Stop feeling frazzled before you even step foot in the classroom! The LK Teacher Club will help you handle the backend of teaching so you can focus more on what you love: teaching. In the membership, you'll get exclusive access to new editable classroom forms and templates each month. INSTANT ACCESS TO THE BOOK NOOK
Make your read-alouds magical and meaningful with The Book Nook (aka your soon-to-be favorite corner on the internet). In The Book Nook area, you'll find engaging read aloud companion resources (with higher-order thinking questions and stop points), correlating activities, and much, much more for 4 authentic read aloud stories each month.
IF THIS SOUNDS LIKE EXACTLY WHAT YOU'VE BEEN LOOKING FOR, THEN THE LK TEACHER CLUB IS THE PLACE FOR YOU!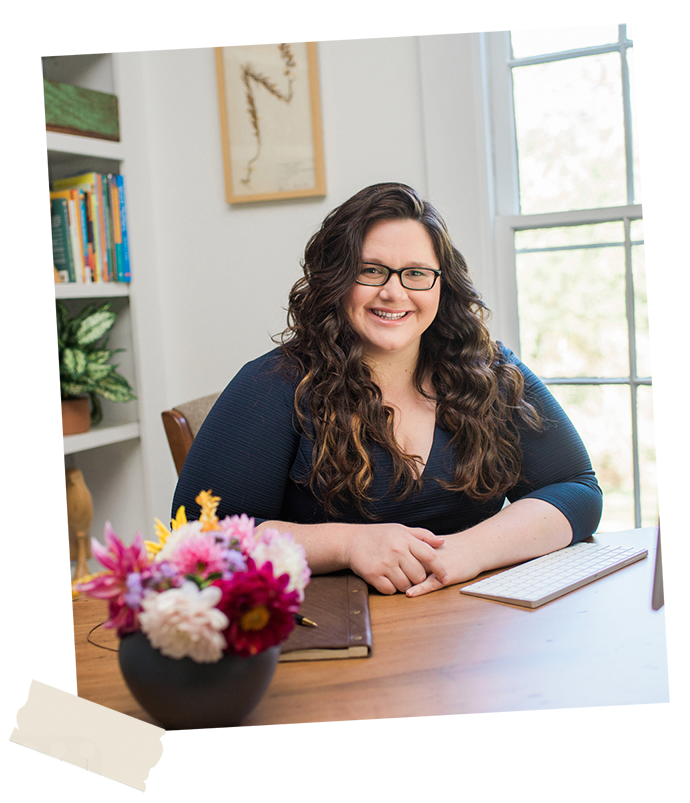 Hi, I'm Lyndsey – the newest tool in your teacher toolkit! I'm a first grade teacher turned curriculum developer who is dedicated to helping teachers – just like you – reignite their passion for teaching.
With over 10 years of experience in education, I know firsthand how overwhelming and demanding teaching can be. Teaching involves a lot of hard work that is rarely acknowledged, and it's easy to get swallowed up in the daily demands of the job if you don't have the necessary tools to help you.
That's where I come in! I've combined my love for helping teachers with my passion for creating engaging resources to develop the LK Teacher Club – an online membership that will help you set out to do what you do best: teach kids and change lives!
You don't have to do this teaching thing alone. I've got your back. Join the LK Teacher Club and see your life transform in a big way!

MONTHLY MEMBERS-ONLY RESOURCES
Soon you'll be asking yourself, "How the heck did Lyndsey know I needed that before I knew I needed that?"
Each month, a brand new, kick-your-instruction-up-a-notch resource will be waiting for you to download inside the LK Teacher Club membership area.
All LK Teacher Club resources are:
brand new & not available anywhere else

aligned to K-2 standards

research-based and catered specifically to your requests

differentiated to meet your students' needs

engaging, rigorous, and hands-on (all you'll have to do is prep once and you'll be set for years to come!)

downloadable PDFs (all resources are printable)
HERE'S WHAT IS ALREADY INCLUDED: EXCLUSIVE ACCESS TO THE BOOK NOOK
Ready to embark on a reading journey with your students? The Book Nook offers you everything you need to take your read-aloud time to the next level!
Get ready to instill a love for reading in your students with focused read aloud companion discussion sheets, correlating activities, graphic organizers, and comprehension posters for four authentic read aloud stories each month.
All text-based higher level questions and stop points are listed for you. You'll just have to print and teach. It's that simple!
THE PURPOSE OF THE BOOK NOOK IS:
to help you meet your Literature CCSS without sacrificing your read-aloud time

to build comprehension in young readers

to guide students to use evidence from the text to deepen their understanding of the story

to increase student engagement and participation

to expose students to a wide variety of vocabulary words to help them build language, reading, and writing skills

to provide opportunities for students to respond to the text in meaningful ways
HERE'S WHAT IS ALREADY INCLUDED:

UNLIMITED, 24/7 ACCESS TO THE LK TEACHER CLUB FACEBOOK COMMUNITY
Upon joining LK Teacher Club, you'll be added to an exclusive, members-only teacher FB group where you'll feel valued and heard in a safe space that is overflowing with constant support. There will be guided discussions, as well as free-flowing conversation on all things teaching, self-care, and living your best life.
This will be your favorite corner of the internet in no time!
WHAT YOU'LL GET WHEN YOU JOIN THE GROUP:
Post your questions 24/7, and get helpful answers that you can immediately take back to your classroom

Share your #classroomwins and gather creative ideas on-demand

Have insider access to Lyndsey, and get her best teaching advice

Use our group like you would Google and search for any teaching topic

We'll have moderated discussions on topics like: #permissionslip where you can be as candid and real about how you're feeling (and receive loads of support from fellow teachers); #selfcaresundays where we have you all talk about how you're taking time for yourself; and #teachertiptuesday where you can share your tips and tricks you've learned along the way—and provide huge value to other teachers!

And you'll receive special discounts to other resources by Lyndsey (shhh!)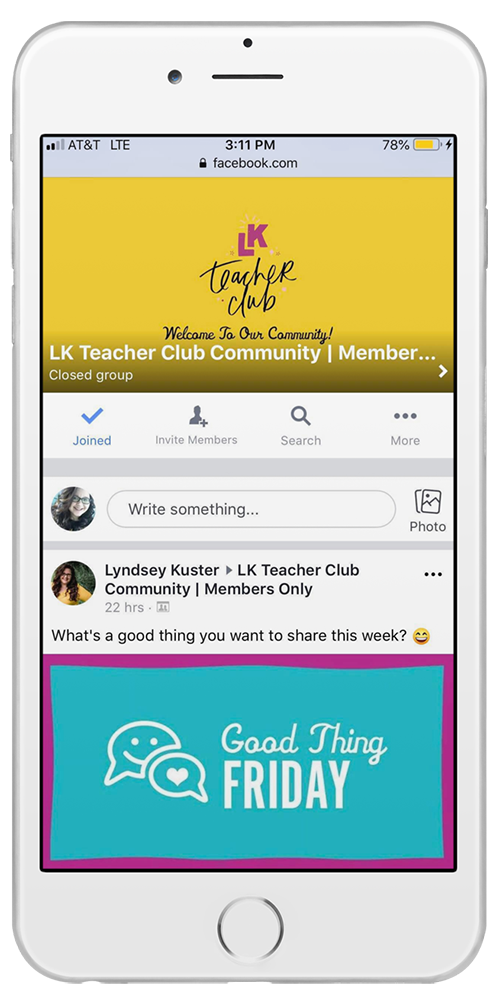 STRESS-FREE CLASSROOM MANAGEMENT TEACHER TOOLS
Say so-long to spending your valuable time and energy creating time-sucking classroom forms. The Teacher Tools and Templates area has you covered!
Each month, you'll find new, hassle-free, editable forms and templates, classroom management tools, and organizational materials to help you keep your teaching ducks in a row.
HERE IS SOME OF WHAT'S INCLUDED AND WHAT'S COMING:
back to school organization (alphabet cards, editable library labels, classroom jobs, and much more!)

classroom management tools

reflection logs

report card comment suggestions

editable digital rotation boards (math & reading)

take home tools (for students and parents)

parent-teacher communication logs

volunteer forms

parent surveys

classroom organization materials
HERE ARE SOME OF THE TEACHER TOOLS INCLUDED: 35% OFF ALL NON-MEMBERSHIP RESOURCES
In addition to the incredible materials inside the membership (hundreds of dollars worth of resources), as an LK Teacher Club member, you also receive an exclusive 35% off promo code that you can use on all of Lyndsey's resources outside of the membership. This promo code is only for the LK Teacher Club members.
The promo code can be used on all shop resources, all the time. That means you no longer have to wait until a sale to shop. As a member, you can use the 35% off promo code anytime – no special dates required and no expiration date!
WHAT MAKES THIS BONUS SO SPECIAL
you can use this promo code on all resources, including bundles
you no longer have to worry about special sale dates
you can use the promo code on top of other sales and discounts
as long as you remain a member, it's yours to use!
it's only available to the LK Teacher Club members
SAVE 35% ON ALL NON-MEMBERSHIP RESOURCES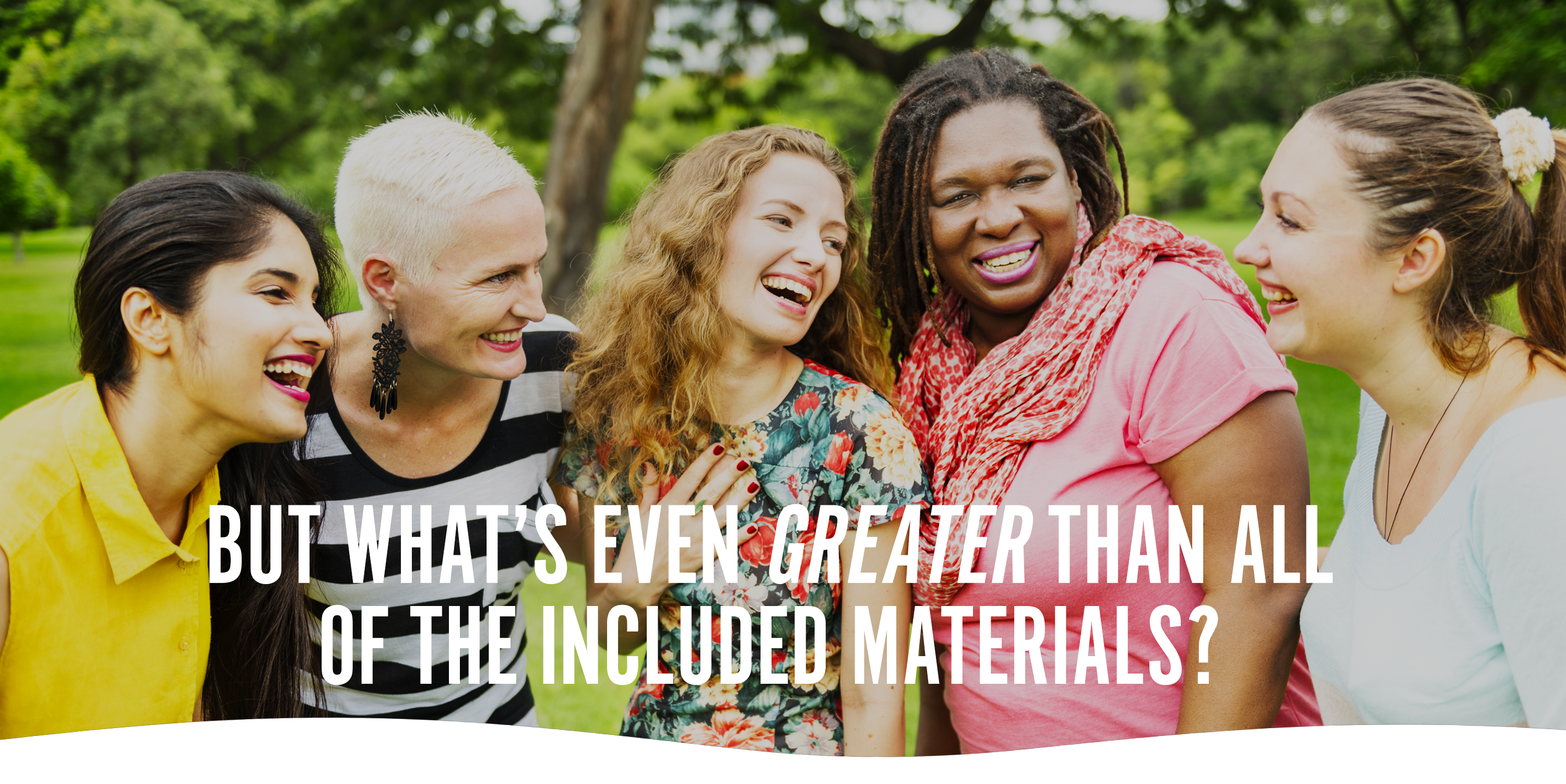 less stressed, anxious, and overwhelmed
better prepared and equipped for teaching than ever before
supported by other teachers who really get you
able to make more time for you and the things you care about!
Here's a behind-the-scenes look: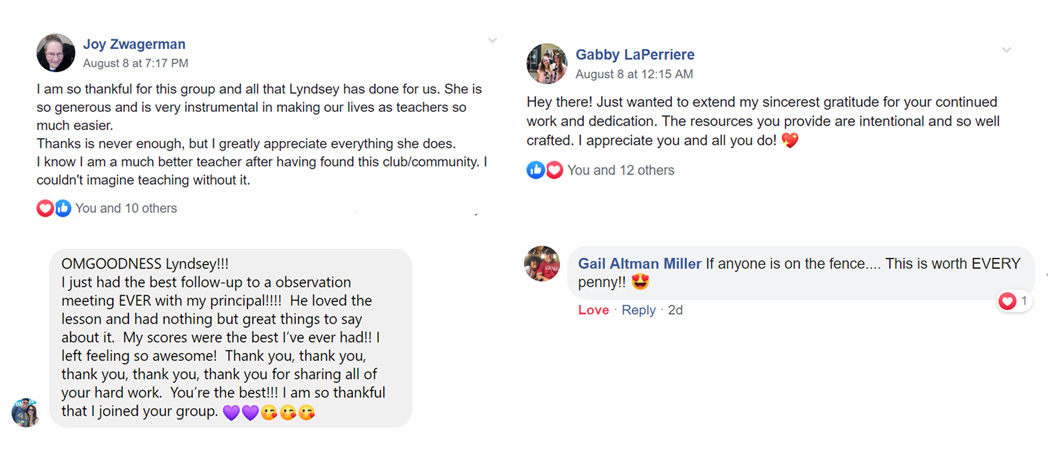 For just
 

$22/month

 

(plus a one-time $45 access fee), you'll receive:

A LIBRARY OF TEACHER RESOURCES
You'll get immediate access to all previous months' materials, plus one new bundle-size resource each month. Content varies, but expect in-depth resources for:
Word Work
math stations
comprehension strategies
…and so much more! INTERACTIVE READ ALOUDS
Four new interactive read-aloud resources will be added each month (plus, you get all previous months' materials). Each companion resource includes:
response sheets
comprehension posters
graphic organizers
high-order thinking questions & teacher stop points

UNLIMITED ACCESS TO ONLINE LK TEACHER CLUB COMMUNITY
24/7 access to the Facebook community where you can:
ask questions
share experiences
feel supported
and receive self-care support

STRESS-FREE TEACHER TOOLS
You'll receive access to all of the previously added Teacher Tools. Plus, each month you'll receive a new Teacher Tool designed to:
help you manage the backend of teaching
help you better communicate with parents
help you be more organized
The simple truth is this: you'll save hundreds of dollars & hours when you join the LK Teacher Club. By becoming a member, you'll gain instant access to exclusive resources that aren't shared anywhere else on the web. Join today and start thriving – in and out of the classroom!
**Note: All resources are digital PDFs
Are you ready to move out of survival mode and into thrive mode?
If so, join the LK Teacher Club today and tackle teaching with confidence.
1
Sign up for a recurring membership
*
 for just $22/month (plus a one-time $45 upfront access fee) by clicking on the big button below.
2
Get instant access to a library of resources & to the supportive Facebook group.
3
Take a deep breath knowing you have a supportive FB community by your side and a slew of downloadable engaging resources waiting for you in the membership area!
*NOTE: You can cancel your membership at any time
There are limited spots to join. Join today!
How does the membership work?
On the 22nd of each month, the following will be added to the Members' Area:
1 new in-depth, engaging, rigorous resource that is perfect for primary students
4 interactive read aloud companion resources (with text-dependent questions, stop points, vocabulary cards, and much more!)
1 teacher tool to help you with the backend of teaching/to help keep you organized
Plus, you'll get 24/7 access to an exclusive private Facebook group that is overflowing with constant support & self-care practices and tons of special surprises along the way!
You get all of the above for just $22/month. Click here to join.
What grade levels does the membership cover?
The resources were made with high K, 1st, and 2nd graders in mind (if you teach K, you will still find immense value in the resources; you just may not be able to use all of the current materials – but all future resources will be differentiated). We also have many ELL, Reading Specialists, and SPED teachers in the membership.cebook group that is overflowing with constant support & self-care practices and tons of special surprises along the way!
Will you sell the resources in the membership on TpT too?
All of the resources are exclusive to the membership. They are all brand new resources and will not be added to any other shop. So if you want them, this is the only place to access them!
Why are there limited spots to join?
Lyndsey is limiting spots for enrollment so the community doesn't get too large, too quickly. It's important that we grow together as a community.
Are the resources just a bunch of worksheets and fluff?
No! This membership is all about THRIVING in and out of the classroom. Your students (and you!) will not be able to thrive with pages and pages of worksheets. We want first graders to use their hands, minds, and socialization skills, right? That's exactly what these resources ask students to do! They are research-based, engaging, and CCSS aligned – made by a teacher for teachers!
I don't have a Facebook! Is it still worth it to join the membership?
Absolutely! The resources alone are worth the membership cost. But, come on, friend! We want you in the group! The Facebook group is where all of the ongoing support, collaboration, and real talk will happen.
If you're hesitant to join the Facebook group because you don't want to reveal your name or private information, you should consider joining under another name. That way you still get to participate. If you decide to do so, just email Lyndsey at lyndsey@lyndseykuster.com and let her know which name you'll be joining under.
But, if you'd rather not join the group, that's okay too! Like I promised above, the resources alone are more than worth the monthly cost.
What if I join and then later decide that the membership is not for me?
If you join and decide the membership is not for you, no problem. You can cancel anytime. No questions asked! Upon cancelling, your subscription will stop and you will not be billed for any future months.
*Once you cancel your membership, you no longer have access to the resources in the Members' Area or to the Facebook group. You will need to download all resources before canceling your membership.
How does the 35% off promo code for other resources work?
When you join the LK Teacher Club membership, you will receive a special 35% off promotional code that you can use on ALL resources that are not included in the LK Teacher Club membership. You will enter the promo code over at my brand new shop (https://shopwithlyndsey.com/). The promo code cannot be shared with non-members. This promo code can only be used on the Shop With Lyndsey site. You cannot use it on TpT. The promo code can be used anytime, as long as you remain a member of the LK Teacher Club. Woo hoo!
*If you cancel your membership, you no longer have access to the promo code.
Why is there an access fee?
The one-time access fee is to protect the integrity of the membership. This access fee gives you instant access to all materials that were previously added (hundreds of dollars' worth of materials). I pinky promise – it's well worth it!
If I cancel my membership, can I rejoin at any time?
No, the membership is only open for enrollment for a limited time. If you cancel your membership and then decide you want to join again, you'll have to wait until the next time it opens.
Important: If you cancel and rejoin, you will not have access to the previous months' resources. Your membership will start all over again.
Will I need to purchase or locate the monthly read aloud texts or do you provide them?
You will need to acquire the monthly books on your own. The books are not provided for you. But, the book titles I have chosen are easily accessible. They are fantastic titles, but not uncommon to find. My suggestion, before you go out and purchase the books, is to check your public or school library or ask a colleague to borrow them.
Do you offer refunds?
The materials are delivered to you electronically (PDF, Word, PowerPoint). For that reason, I do not offer refunds. However, if you join the membership and find it's not a good fit for you, you can cancel anytime and you won't be charged again. No questions asked!
If you have other questions, please contact lyndsey@lyndseykuster.com.